Biography
Vee Mukarati is a Zimbabwean saxophonist,composer and producer based in Geneva,Switzerland. His music is a mixture of contemporary afro-jazz, afro-pop and soul.
Influenced strongly by growing up in the complex socio-political atmosphere of Zimbabwe and his life as an immigrant, he writes and sings compelling songs about life and some of its difficult questions. 
Vee's musical life began at a young age. At 10 he undertook the clarinet and played in youth orchestras under the instruction of his music professor, Mitchell Strumpf. At 15, as a member of the Prince Edward school jazz band, he started playing the saxophone. It was at this point that he committed himself to jazz and improvised music. He went on to study a degree in Jazz and Contemporary music at Newpark Music Centre in Dublin, Ireland. 
After completing his studies he lived in Zimbabwe's capital city, Harare until 2018. Quickly establishing himself as an innovator in the city's jazz scene he hosting a popular concert series called "Afrojazzanova" which featured collaborated with some of Zimbabwe's most talented rising stars like Gemma Griffiths, Hope Masike and Bryan K to name a few.
He has performed his brand of contemporary Afrojazz at the Harare International Festival of the Arts, The Zimbabwe Jazz Festival, Miombo Magic Music Festival and Shoko Festival. He has also collaborated with established artists across Southern Africa and Europe, having worked with Oliver Mtukudzi, Mokoomba, Jamaram ,Baron Retif and Conception Perez and Jason le Roux.
In 2012 as the lead singer and saxophonist of the jazz quartet, "Jacaranda Muse", the first recordings of his compositions were performed on the group's debut album "September Sun" which is released under the French record label "Heavenly Sweetness". 
In August 2017 his solo album "Nyamavhuvhu Night Sounds" was internationally released under his own label, Primrose Records. Following it's release it was awarded a Zimbabwe National Arts Merit Award for the music video to the song 'Over Again' which also marked Mukarati's debut as a music video director and was produced in collaboration with Zimbabwean visual artist,Helen Teede.
In 2018, Mukarati moved to Geneva,Switzerland.He has since released two singles;"Booty Call" and an impassioned rendition of The Beatles classic "Blackbird".
On August 22nd 2020, Vee released a six track EP called "Vital Signs" which was included in Bandcamp's essential releases list the week it came out. "Vital Signs" is A meditation on the contemporary Afro-jazz sound that attempts to bring jazz full circle back to its African roots. An exploration of the duality of the migrant experience; what it means to be a stranger in a strange land; racial injustice; mortality and loss; and the power of hope. 
Since 2021 he has been enrolled at the Haute Ecole de Music in Laussane Vaud Switzerland studying a degree in jazz singing with a focus on music education.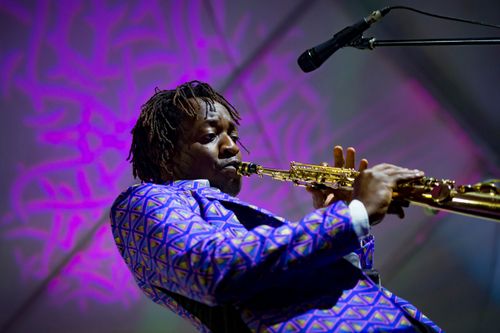 "

The Best Albums Of The Year 2020"